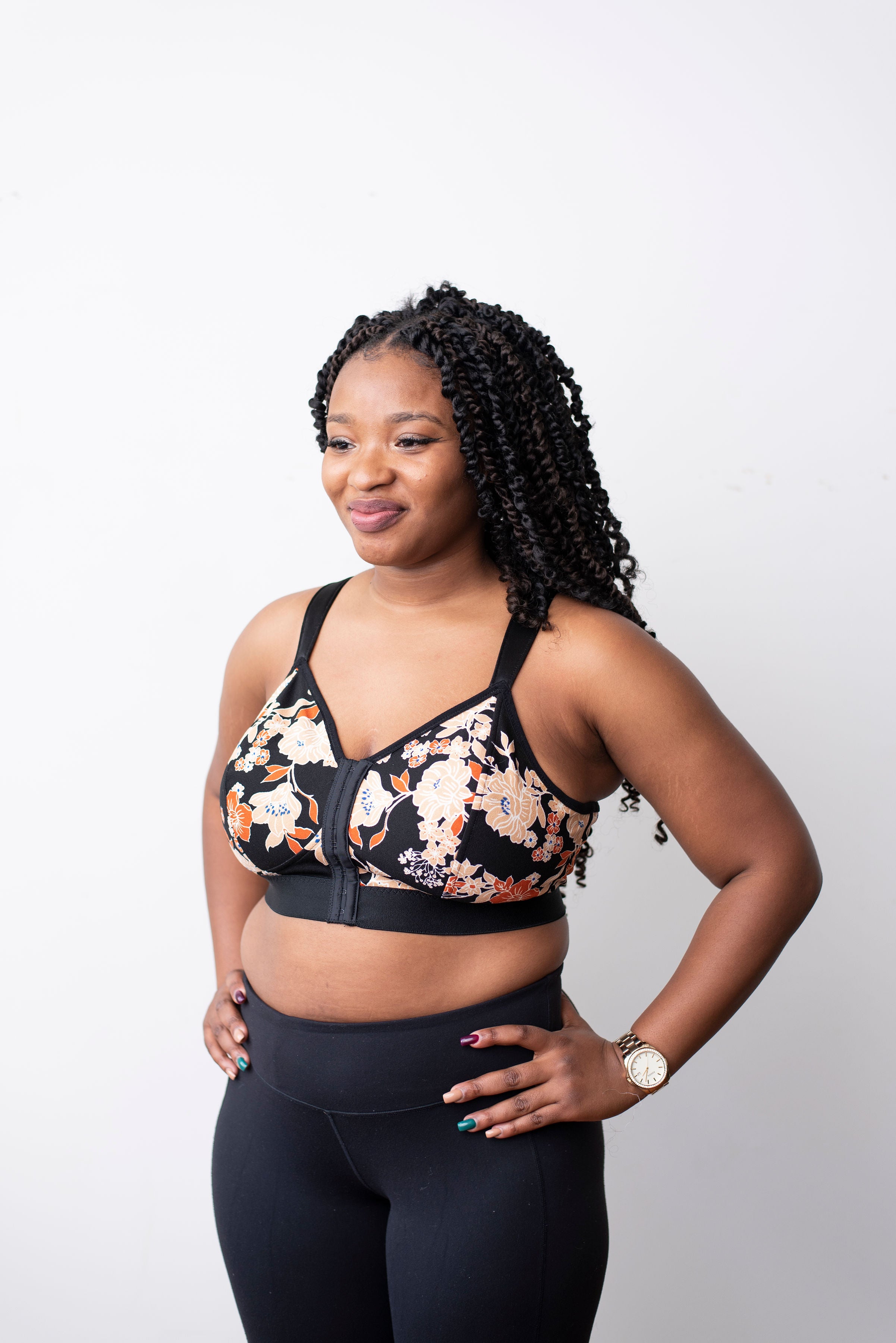 Breast Cancer: Surgical Bras & Breast Care
October is near and dear to our hearts here at Rubies Bras, as we take pride in serving breast cancer fighters and survivors with custom bras and garments tailored to their specific needs.
This month we hope to raise awareness not only for breast precaution, but how to live and care for your breasts during your journey.
This article focuses on garment elements coupled with highlighting other women-owned businesses that carry breast forms and prosthesis and soothing natural products, making all the difference in comfort and regaining confidence.
What should a surgical bra include? 
Soft, breathable fabric and seams

 

to prevent irritation and allow for maximum comfort (no wires, no foam lining, no padding)

Wide waistband band

 

that fully covers underarm and folds in the area to allow for optimal healing

Full cup coverage

 

so breasts stay in place while healing

Front closure with middle cup separation

 

for ease of wear 

Wide thick straps

 

to provide additional comfort and support
Some of our clients also need breast forms to help restore breast symmetry.
What are the top recommended breast forms and prosthesis on the market?
Boost

 

provides a lightweight, breathable silicone form available in different patterns and colours. Ideal for those who want lightweight, breathable support with heat regulating nature. All products are made in-house and the company is run by women-led entrepreneurs. Prices start at $75USD
Rubies in-house foam form

 that we create from scratch that is lightweight and made exactly to your size, using layers of thin foam, adding silicone pellets for weight and shape. Prices start at $100USD
Amoena

 

is a national company that sells silicone breast form and prostheses that emulates a natural breast including built-in nipples. Although we have had feedback they can feel heavy and hot at times, but are a great option to restore symmetry, especially for larger busts. Prices start at $200USD
What are the best products for breast wellness and care?
Although a great bra can make all the difference, another item to include in your breast care ritual, are products that are antibacterial and anti-inflammatory.
Here are some products we recommend for optimal breast care.
1. Complex Creatures provide breast oil and balm that cater to delicate skin undergoing radiation therapy or recovering from surgery. Their products improve lymphatic flow and blood circulation, which flushes toxins and allows for healthy cell growth. Using these products while performing breast massages can help soothe soreness and swelling. Use code GOTYOURFRONT for 20% off this month.
2. Mastectomy Tattooing Alliance provides areola and mastectomy tattoos to the breast cancer community 
1 in 8 women will develop breast cancer in their lifetime, catching it early can make all the difference. If you are already diagnosed, we hope you well in your healing journey. 
- Ruhee, Founder
ruhee@rubiesbras.com
breast cancer
October is breast cancer awareness month, which is near and dear to our hearts here at Rubies. We have friends, family, staff, and clients who have been affected by breast cancer, so we urge you to...
Read more