Tips For Your Nips: Bridal Edition
Planning your wedding is stressful but finding the perfect bra to wear under your dress shouldn't be. We know shopping for bras and undergarments is not as exciting as finding your dream dress, but you shouldn't overlook the importance of these foundational pieces. The right type of bra will enhance the overall fit and look of your dress, provide the perfect amount of support, and most importantly, be extremely comfortable throughout your special day.
Here are a few things you should keep in mind when purchasing a dress and bra for your big day:
Choose a Silhouette that Flatters and Goes with Your Bra Choice
The style and cut of your wedding dress plays a big factor in choosing what type of bra to wear. Ball gowns and A-line dresses allow you to wear any style of bra you want. You can either wear a full-coverage bra for maximum comfort or a corset to lift your bust and cinch in your waist.
If you're wearing a strapless dress, or a dress with thin straps, it is best to opt for a strapless bra or a corset so it won't show but still provides you with support. Having built-in cups works great and is usually available as a service at bridal stores or custom bra stores can have cups custom made and inserted for you. For larger busts, make sure the cups are not just tacked on the inside, but attached to a separate frame and back band, serving as an actual bra inside the dress. I made the mistake of having just cups inserted and boy did I regret it!
If you're wearing a backless and strapless dress, it might be best to either go braless or use pasties or boob tape which offer lift and support. We recommend the ever popular Booby Tape or Canadian based company My Perfect Pair.
If the idea of sticking something to your breasts is not appealing, there is also the option to have a backless strapless bra made using wide elastic that wraps around your body that clips in the front like what this bride did below!
Match Your Bra to Your Dress
Something else to keep in mind when purchasing a bra is the colour of your dress. You want your bra to blend in or complement your dress so it doesn't compromise your beautiful look. Bras that are nude (or match the colour of the dress), or have lace embellishments are great options to be kept hidden or peak out nicely. Another idea would be to use the material from your dress to have a custom bra created for a perfect match. Most bridal stores will have extra material to match that you can purchase.
Buy in Advance, But Fit Check Last Minute
Purchasing a bra for your big day shouldn't be a list-minute decision. Your bra should be purchased, and altered, at least one week before your big day. You want to make sure that your bra fits perfectly on you and underneath your dress! Having your bra altered closer to your wedding date will give you piece-of-mind knowing that it will fit perfectly. This is important since many brides tend to lose weight during the wedding planning process (I did, anyway), especially leading up to the wedding, so you want to make sure that everything fits the way it's supposed to!
Some Tips for The Bigger Busted
As someone with a bigger bust, I know that it is hard enough to find a bra that fits, looks good, and is comfortable, let alone a bra for one of the most important days in one's life! If going strapless, one tip is to purchase a bra with more hook closures at the back, which will provide you with more support and will help keep the bra in place for a long period. It is a pain to always watch for your bra falling down and having to keep yanking it up all day!
Another idea is to add straps to your dress if you end up liking a strapless one the best but prefer wearing a bra with straps. Adding straps will allow you to wear a more traditional bra with more support so you don't have to worry about adjusting your bra constantly. Most bridal alteration stores will have a variety of beautiful straps to add on!
Planning your wedding is an extremely stressful process and what to wear under your gown can easily slip your mind. But do not worry! There are many options for you to choose from when it comes to deciding the right type of bra to wear underneath your wedding dress. We hope these tips and tricks will help you feel better prepared for your big day. Have questions? We are always here to help. Just give us a shout.
- Ruhee Rajan, Founder, Rubies Bras
ruhee@rubiesbras.ccom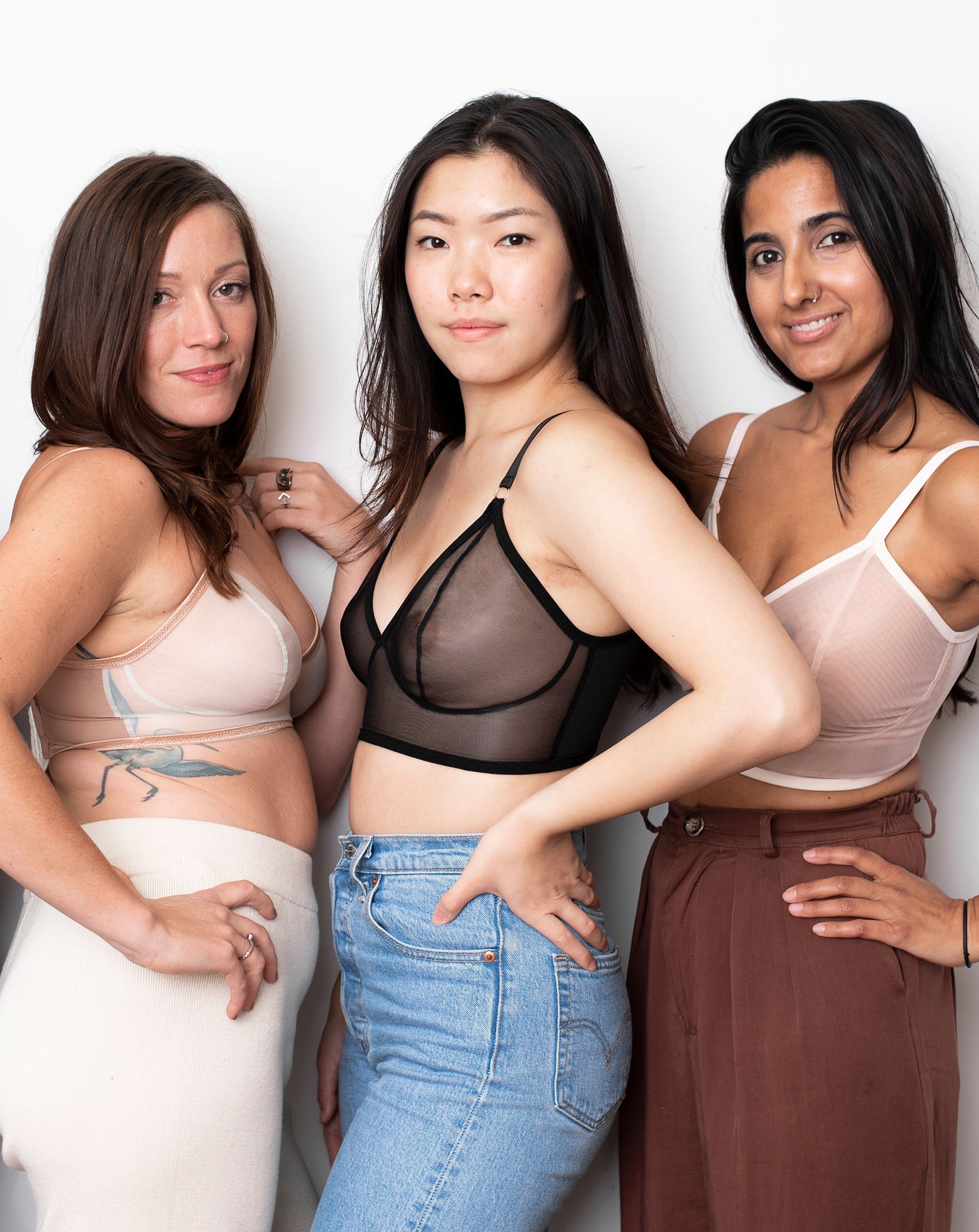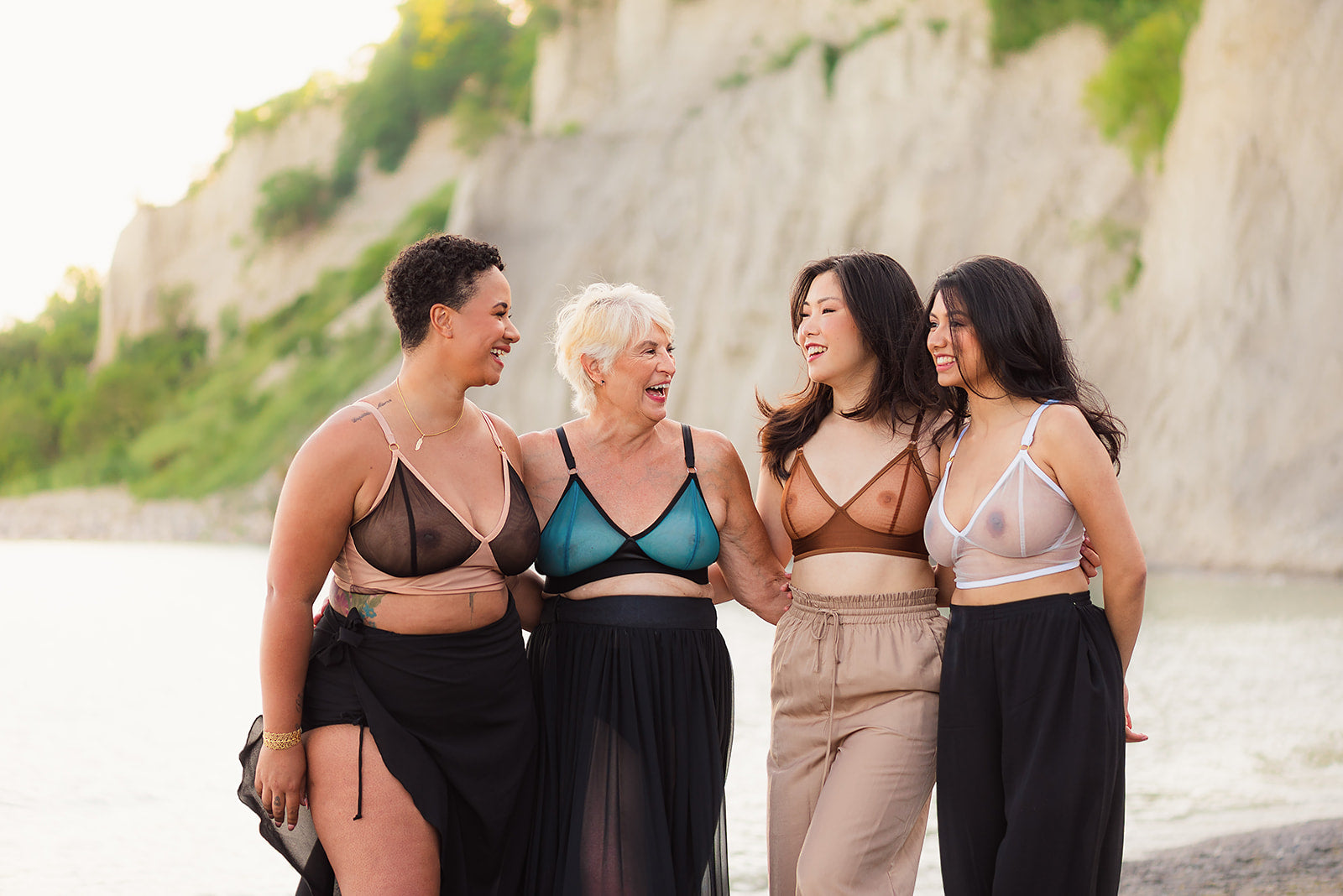 bramaking
The Sahaara Pattern & Collection
After years in the making, our baby is finally here! Our Sahaara Collection and Pattern features new colours, new fabrics, and a brand-new wire free design meant for cool, breathable summers… well ...
Read more