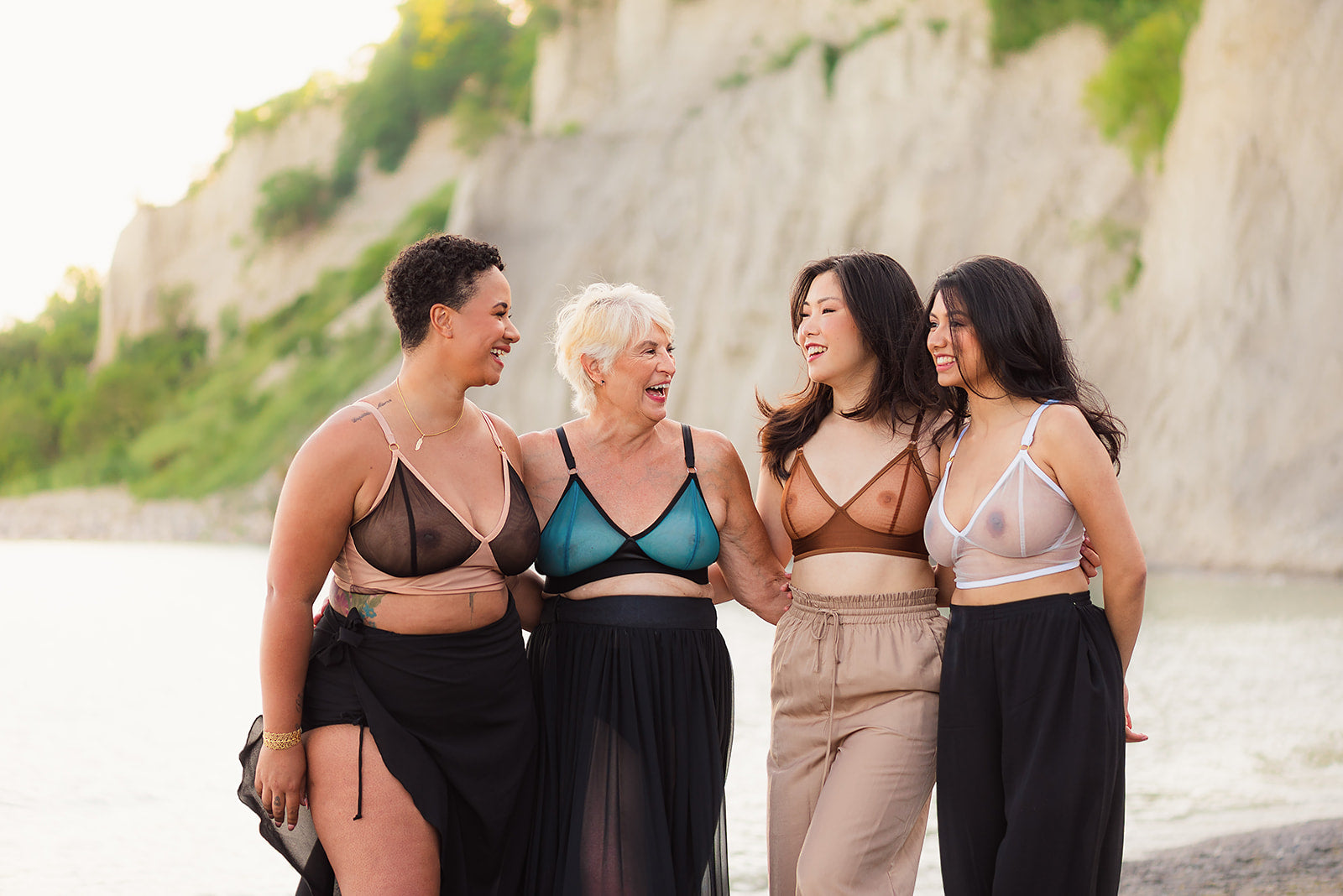 The Sahaara Pattern & Collection
After years in the making, our baby is finally here! Our Sahaara Collection and Pattern features new colours, new fabrics, and a brand-new wire free design meant for cool, breathable summers… well for your breasts at least ;)
Read our behind-the-scenes journey starting with the inspiration behind the collection, how we took this inspiration and brought it to life with our collection pieces, and finally, showcasing these pieces with a magical photoshoot right here in our beautiful city of Toronto at the Scarborough Bluffs. The Sahaara Collection and Pattern is now available for purchase online!
OUR INSPIRATION
Our inspiration for the Sahaara Collection and Pattern comes from the time I walked in Urban Outfitters and saw the cutest "triangle bra" (on a mannequin) and thought, maybe I COULD fit into it. And it was only $20! Worth a try, right?
Very wrong, but also very right. Wrong because never in my life has a commercial bra, bralette, or a braless tank ever fit me. Never. And I've tried so hard to make them fit, pretending they were comfortable, pretending my boobs weren't falling down, pretending I didn't have any red marks on my shoulders.
But also very right because it lit a fire inside me. Why can't everyone wear a cute triangle bra that's low cut, minimal, playful, and sexy? Surely there must be a way?!
So I started working on a way. We first started with sketches, then a pattern to match the sketches. Next, we tested a variety of fabrics, and finally landed on a few options that weren't too stretchy and constricting. Samples were then made to test the fit, comfort, support, and function. We repeated this about… 100 times. It's taken years to perfect this pattern and test on our clients to be sure it worked.
And now we are here today confident that we've made a wire-free bra that looks minimal, sleek, and elegant, that provides comfort and support for sizes AA through L. Yes, an L!
We released a version of it last year called the Summer Collection and have been fine-tuning the details for the past year to make it into our final collection and pattern. 
OUR FEATURES
There are some features that I would like to highlight in our new collection and pattern that gives this style its minimal, sexy look without compromising support and function.
Our signature look is cups that are double lined with Parisian bra tulle and a solid satin front frame with power mesh for the back band. After much testing, we found this combination of luxe fabric ensured the perfect amount of hold, comfort, and support. ⁠We've also included a low stretch solid satin and lace options.⁠
In order to achieve the low-cut look AND provide support, you need coverage and support somewhere else. The worst is when you buy a low-cut bra that makes your breasts pop out and sag! So, we tested raising the center front and strap tabs as much as we could without compromising the plunge look. And thank goodness after what seems like a million tries, we made it work! We always make sure the band is nice and wide to provide coverage underneath the arms and about the back. There's even the option to add in an additional waistband and long line option for additional comfort and support!
I think that every bra needs to have some bling and fun, so we added more lace options and jewelry quality gold, silver, and rose gold rings to complete the look!
The new Rubies Sahaara Collection & Pattern features a low-cut neckline for breathability, Parisian bra tulle that's buttery soft, and colours that have the perfect balance of warm and cools, with gold- and silver-plated sliders and rings.
OUR COLOURS
Colours are so important to me, as I was given very limited choices when shopping for commercial bras. Last year we introduced light, beachy colours, but this year we went more striking. In addition to our signature colours, we've added more bold and golden with cinnamon hues and luscious reds to this year's collection. Our new colour palette is a blend of bold solids and neutrals of cinnamon, peacock teal, feather white, bold garnet, and soft peach. Below are the fabrics that I settled on. I just love how bold and eye-catching they are, but still summery and light; exactly the combo I was going for.
OUR PHOTOSHOOT
The photoshoot for the Sahaara Collection and Pattern had to be on a beach. We loved our secret sunrise spot in Bluffer's Park from last year's photoshoot so we decided to back this year and find something just as magical and try out a sunset shoot. Luckily one of my clients gave us exclusive access to her beach club so we were able to do hair and make up indoors. After we were all dolled up and well fed and hydrated, we walked eastbound to the outer most part of the bluffs towards a little beach.
When we got there, the view was breathtaking. The beach was quiet and empty, perfect for a photoshoot. The sandstone, water, and cliffs proved to be the perfect natural background, while making our colourful Sahaara collection stand out while complementing the models' natural beauty. It was the perfect day, with an even more perfect ending. The sunset was beautiful. We were able to watch, and capture, the most amazing golden hues. After the sunset, the sky looked like stunning, spreading pink hues across the water and sky.
We frolicked in the lake with our bubbles in hand, making the most excellent prop. A local beaver also graced us with his presence, sneaking peeks of our new collection!
One of the best parts of the photoshoot is a group of strong women from all walks of life coming together, getting to know each other, having fun, and capturing amazing memories together! There is no better way to end the day than witnessing a majestic sunset while in the company of inspiring and powerful women. Being able to come together and create magical moments together strengthened our connection to one another.
This has been the most amazing journey and I'm so excited to finally share the Sahaara Collection and Pattern with all of you! I am truly the luckiest person alive to have a village of women who have had by back throughout this entire process. Thank you to the fabulous women and women-led businesses who, without hesitation, opened their hearts and minds for us, testing our pattern, designing our manual, offering to create kits and sell our pattern, and sharing their own experience, and tips and tricks when it comes to creating, releasing, and marketing a pattern!
And there you have it. Our story and journey behind the Sahaara Collection and Pattern. A carefully thought-out, minimal and timeless piece that I hope will serve those looking for a casual and breathable look without compromising support and comfort. The collection is now available as a made to measure ready-to-wear piece and as a sewing pattern.
- Ruhee, Founder
ruhee@rubiesbras.com
Tips For Your Nips: Bridal Edition
Planning your wedding is stressful but finding the perfect bra to wear under your dress shouldn't be. We know shopping for bras and undergarments is not as exciting as finding your dream dress, bu...
Read more
breast cancer
October is breast cancer awareness month, which is near and dear to our hearts here at Rubies. We have friends, family, staff, and clients who have been affected by breast cancer, so we urge you to...
Read more