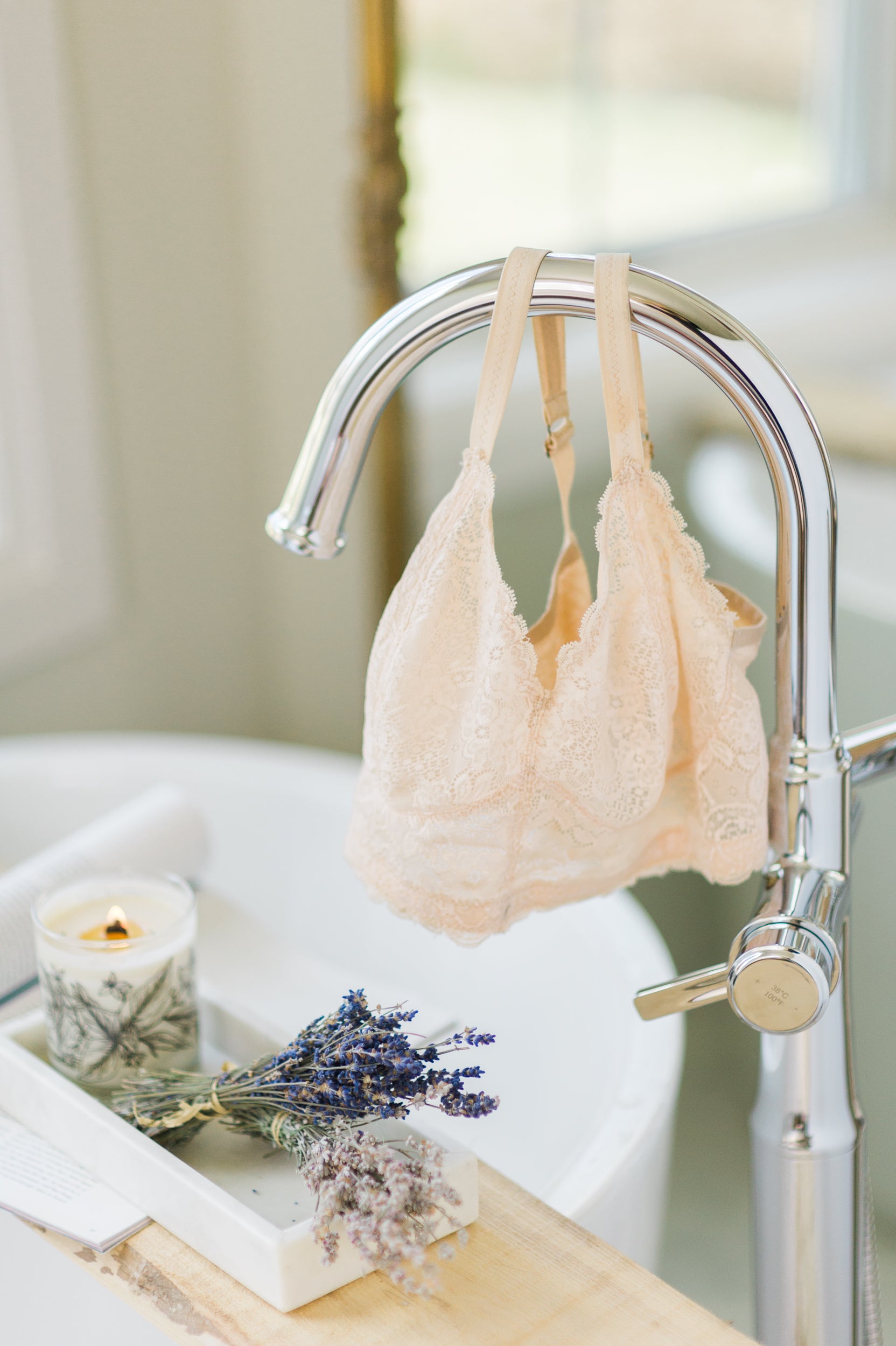 Time to Wash Your Bra!
"I think I washed my bra last week? Or was it the week before that? Never mind, I'll get to it later."
Sound familiar?
Fear not, you aren't the only one with these thoughts. A lot of my clients plead guilty as well!
For most of us, we understand that bra hygiene is important, but eventually push these thoughts to the back of our minds. Just think of those dirty makeup brushes. I'm constantly telling myself I'll get to them sometime soon. And then I put it on my to do list...that I'll get to sometime soon...
Anyhoo, if you need some incentive to wash your bras, think back to the price tag attached. We want our precious garments to be long-lasting so we don't have to go through the headaches and costs of bra shopping am I right? Well, the key to making your bra last years, yes years, is simple: put on your bra with care, launder regularly, and wash properly. Let's discuss in detail.
HOW SHOULD I PUT ON MY BRA?
When first putting on your bra, do so with care, which means no yanking, no excessive pulling, and making sure the band and straps are adjusted properly. Remember, your band around your ribcage is what does most of the work in supporting your breasts, not your straps. So make sure your straps aren't being over stretched and your band is comfortably snug. You can read more about how to make sure your bra fits here. Also, you shouldn't be wearing the same bra every day; rotating between a few bras prevents over usage and helps extend the shelf life of each bra.
HOW OFTEN SHOULD I LAUNDER MY BRA?
Although, there are many opinions on how often we should wash our bras, ours at Rubies is every 2-3 wears. If that sounds nonsensical, you could extend to 3-4 wears if you're sitting at home working all day and don't sweat much like me. However, the opposite also applies. Going out for a run in your bra or doing a hot yoga session probably means it needs to be laundered. You don't want excessive sweat remaining on your bra as the dirt and oils will cling to the fibres and prevent it from stretching and shaping properly.
WHAT IS THE BEST WAY TO WASH MY BRA?
The classic method we've been told for our intimates is to handwash since it's the most gentle and effective way to extend the life of our bras and prevent wires from breaking. This is still true, but it is way easier to handwash your bras, and this is coming from someone who doesn't like doing laundry at all. A couple of favourite intimate wash products to use are Soak and Eucalan. Soak works like magic - its gentle, no rinse formula makes handwashing a breeze. All you need to do is add a cap of Soak liquid into a full sink, add in your bra and leave for 15 minutes! Then simply squeeze and rinse the water out of the bra and lay flat to dry. 
As much as handwashing is great for all our garments, sometimes I just can't be bothered. The great thing is that now most new washing machines no longer chew up your intimates and have a great gentle cycle that's actually gentle. So washing your bra in the machine without damaging it is possible!
Just as long as you follow these basic rules:
Fasten the hook and eye together and place in a wash bag (1 or 2 per bag as long as there is enough room for the bras to move around)

Place in washer with similar coloured delicate garments

Use a gentle, scent-free detergent (I use Tide Free and Gentle), and wash in a cold and gentle cycle

Do not use fabric softener, instead, try vinegar! (details below)
Lay flat to dry. Never hang dry by the straps.
ARE LINGERIE WASH BAGS EFFECTIVE? 
Lingerie wash bags are a must to wash any delicates or intimates, not just bras. I even use to wash my masks! Since we spend so much on our bras, we want to ensure that our wash bags take care of them and don't open up or rip while in the wash. I personally didn't like any of the wash bags I found, so I ended up making my own and include them with every custom bra purchase. I also sell them individually online.
WHAT ARE SOME TELLTALE SIGNS THAT IT'S TIME TO WASH MY BRA?
IF IT SMELLS
Give your bra a good sniff. If it's not something you want to smell, it's time to wash. Always check specifically for the underarm area since that's where we sweat the most. 
IF THERE ARE STAINS
If you spilled food on yourself, you would take off your garments and wash them. Why not do the same for your bra? Stains generally indicate that enough dirt, dead skin cells, and body oils have accumulated on your bra that need removal.
IF THE BAND SEEMS STRETCHED OUT
If you usually wear your bra on one hook and you notice after some wears that you are adjusting it to a tighter hook, it may be time for a wash. Good quality bras should stretch out and in fairly easily, so if it isn't, this usually means there are sweat, dirt and oils on the fibres that are preventing the spandex in the bra from stretching back to its original length and shape. Of course, all garments will eventually stretch out over time, but it should be a slower process that takes months and even years.
SIDE RANT: FABRIC SOFTENERS MAY BE THE ROOT OF ALL EVIL
Fabric softeners aim to prevent static, reduce wrinkles, and make materials feel soft to the touch. All of this is achieved through a lubricating film that sticks to the fabric. This film builds up over time and reduces absorption and elasticity of the fabric. In the long run, it's harder to get a good wash, since odours and stains are not as easily removed. So ditch commercial fabric softeners and stick to vinegar, the solution to most of life's problems I say. 
White vinegar is a great eco-friendly and cheap alternative to fabric softener and works better in my opinion! All you have to do is add half a cup of vinegar to the rinse cycle and voila, your clothes come out nice and soft without any vinegary smells. Do not use with bleach, however, as it will create toxic fumes.
With all these helpful insights into why you should wash your bra, and the ease that today's technology and products bring into our lives, don't you think it's a good idea to perhaps do a load today? I think so! 
Feel free to leave any comments, questions or thoughts below!
- Written by Ruhee Rajan, Founder of Rubies Bras. She can be reached directly at ruhee@rubiesbras.com