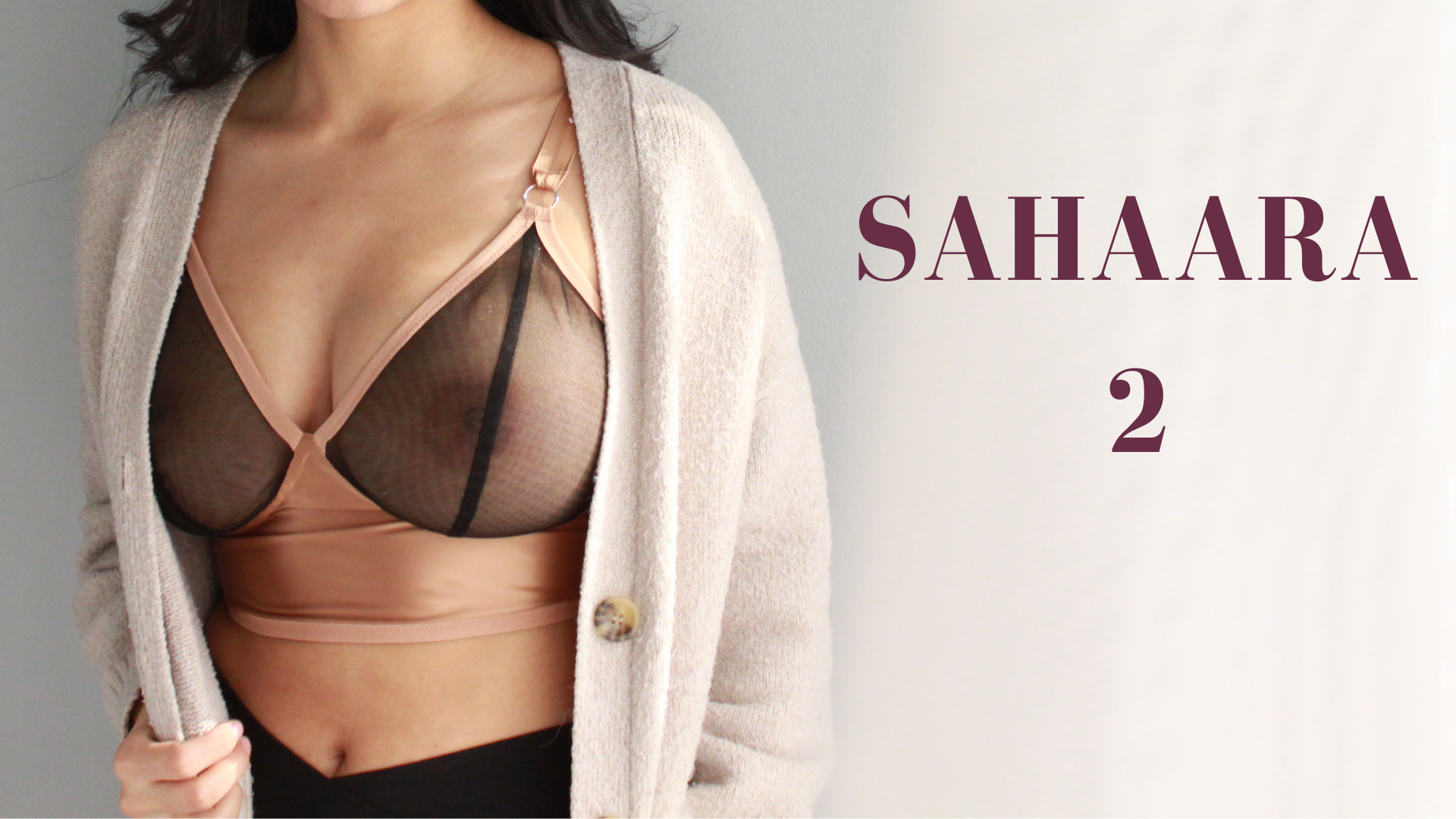 The Sahaara 2
THE WAIT IS OVER 
We are thrilled to be releasing the highly anticipated design updates for our Sahaara Collection!
Our original Sahaara Collection was introduced two years ago and was designed for those looking for a relaxed and minimal look without compromising support. We spent a year testing out the design, and then released a pattern for our sewing community last summer in 2022. Turns out there were even more improvements we could make, so we did! Our Sahaara 2 pattern is dropping so soon, and we can't wait to hear what you think.
How the original Sahaara came to be...
The story began when I first tried on a "triangle long line bra" from a big box store (Urban Outfitters). I REALLY wanted it to fit comfortably, despite there being so many red flags about the bra. The straps were too thin and too stretchy, the cups and frame were also very stretchy, so I kind of knew that it wasn't going to work. But it was so pretty and I wanted a triangle long line bra so badly, so I bought it and told myself I would MAKE it work. Because I am a bramaker right?! Alas, it did not. After an hour of wearing the bra, there were red marks on my shoulders (as the straps and cups couldn't hold the weight of my breasts), and the back band was too stretchy, so that didn't help with support either. My girls just looked saggy and sad, not to mention the pain that comes when you wear a bad bra. The only way to make it work is if I had implants that didn't move and were held up artificially!
So then, of course, I went to the sewing community and tried all the patterns that looked similar, and they still didn't work out. Either they didn't have my size (30E) or the support and lift weren't similar to a wired bra. So I said "screw it", I am going to make my own! So I did! And the first version turned out better than I expected. Over the next year, I perfected the pattern for my size and my clients' sizes that were interested. Turns out, other women (and some men) craved a similar bra style, and I started making all sizes for my clients and dropped the first Sahaara Collection in 2021.
Then the idea of a sewing pattern came to life...
When I started posting pictures of the Collection, I had many sewists ask me if there was a sewing pattern for this bra for sewists to make their own version. To be honest, I was super intimidated making an official pattern. The bra patterns out there were so fabulously made by even more fabulous women! I wasn't up to their standards. But the inquiries kept coming and I love the sewing community so much. I wanted to share the design for them, so I secretly went about researching and looking into how to create a proper pattern and manual. If it wasn't for the existing pattern makers and the sewing community encouraging me on, I probably would have never had the courage and determination to see it through. But I was supported, loved and educated every step or the way, and finally, we released the Sahaara Bra Pattern last July of 2022. It was made for sewers of all levels with an extended cup and band size range, starting from 24 all the way to 46 inch rib cage, and from AA to N cup sizes.
Since the pattern release, we've seen so many great makes...
And we've received a lot of positive reviews and feedback, and also received some ideas for improvement, which we dearly appreciated. My personality itched to make these improvements, which I thought would be easy peasy. Well, I was wrong. No wonder patterns don't get easily updated...
The major feedback we received was
1. The cross cup seam was too far out
2. The center front too low
3. The strap tab too high
4. Back band too big
5. Not enough larger sizes
6. Overlapping middle sizes
I figured these changes were super simple so during the holidays, we made them and were excited to make samples of the Sahaara 2 for our fit models. 
Here's what happened when we made those changes...
Notice the wrinkling and cup shape deformation in the lower part of the left breast? I couldn't believe it. It looked terrible! I had no idea what we had done wrong. This simple alteration warped the entire cup design and resulted in a flat spot for some testers, and even a concave shape for other testers. No good!
We tried every method changing the cross cup seam from every manual. We even met with the "pros" in bra patterns and took their advice. Nothing worked. So we finally went back to the drawing board and tried again but using digital software instead of manual. As much as I was hesitant to do this, I figured I would give it one last shot. And luckily, the results were way better! It goes against everything I was taught, which was all on paper and foam with the second step being digital.
After we fixed the cross cup seam issue, we then went ahead and raised the center front point, and stumbled across some collapsing that was happening because of this. We had to find the perfect balance between how "pointy" we could make the center front vs how easy it would be to sew, especially for beginners. The more pointy we made it, the less tension there was, but then it was super hard to sew. Hopefully we achieved the right balance! 
Finally, we made the wireline bowls a little more narrow to improve projection and lift, and a few other tweaks my perfectionist personality just had to incorporate.
Six months later, The Sahaara 2 is ready and I cannot wait to release it, literally. Although it is my first baby (well, no Emma my pupster is!), there is a fine line between over-doing it and over-thinking it. And I believe I am way past that line. 
Here is what the new Sahaara 2 looks like! 
We truly hope you find this pattern to be an improvement from the first Sahaara. If not, you are welcome to use the original and not tell me haha. Anyone who has already purchased the original Sahaara will automatically get notified and will be able to download the updated version at no extra cost. And those who have been waiting, it's almost time. 
Love, Ruhee and the Rubies Team