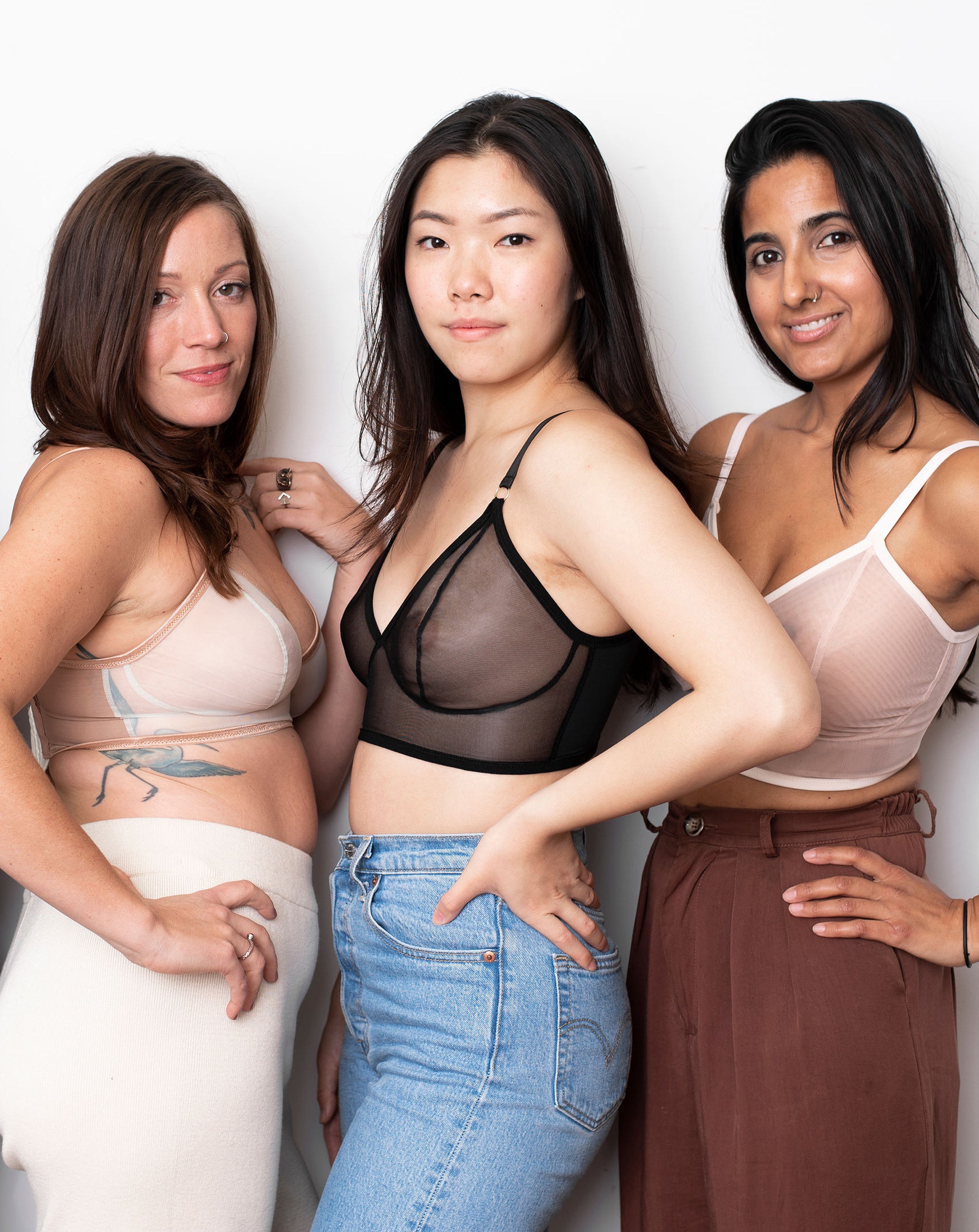 Rubies Bras SS21 Collection Photoshoot: Behind The Scenes
The nature of a made-to-measure business implies that the finished garments are either shipped out or picked up not too long after completion. When our products are almost never in our studio at the same time, it definitely makes it trickier to set up a brand photoshoot! So we wanted to share some behind the scenes footage of our latest shoot featuring both her newly launched collections as well as classic styles from previous years. 
It was a sunny afternoon and everyone was buzzing with excitement in the cozy studio. The entire shoot had a lighthearted and intimate tone as all of the models were clients who purchased from this collection! Ruhee, Founder of Rubies Bras, had reached out to them individually and although not everyone knew each other, they had all worked with Ruhee before. Even the photographer stepped in front of the camera for a few shots and seamlessly became a client of the brand afterwards! When I asked her if it was a deliberate choice to select a group of models diverse in age, colour, and shape, she said that she didn't have that realization until after. The group of models naturally emerged, reflective of the diversity of her clients as well as the city.
At the launch of Rubies Bras five years ago, Ruhee thought her clients would all have larger busts who have been sized out of the commercial lingerie market, but she quickly realized a demand for her products by clients with smaller busts who had a cup to band ratio that wasn't offered. Her clients come from a wide variety of life stages, shapes, sizes, age, and ethnic backgrounds. The nature of custom made garments allows Rubies Bras to be truly inclusive to all shapes and sizes. Most of Ruhee's clients are at a point where they are finally able to focus on their own health and invest in a well fitting bra to elevate their everyday lifestyle.
Before we finished our conversation, Ruhee spoke more on diversity and her support of the BIPOC community from the perspective of a woman of colour that is also a business owner. She is proud to do her part in empowering historically marginalized groups and goes on to say that,  "I hate calling [the BIPOC movement] a movement because it shouldn't be, we should just all be supporting one another". I couldn't agree more, actually!
Ruhee was adamant on hiring a videographer to capture the authenticity behind the scenes of the shoot and highlight the essence of Rubies Bras. Make sure to check the video here!
Written by Joanna Ho, fashion writer, residing in Toronto, Ontario, Canada.
Rubies Bras is a luxury bespoke bra company based out of Toronto, Canada. Owned and operated by women, we create bras that fit, flatter and function for the every day. All sizes & situations are welcomed. Our products abide by the strictest level of quality, customer service and satisfaction, with premium materials that are ethically made, locally sourced, and free from latex and animal products. Private fittings are by appointment or shop online, with worldwide shipping from Toronto, Canada.