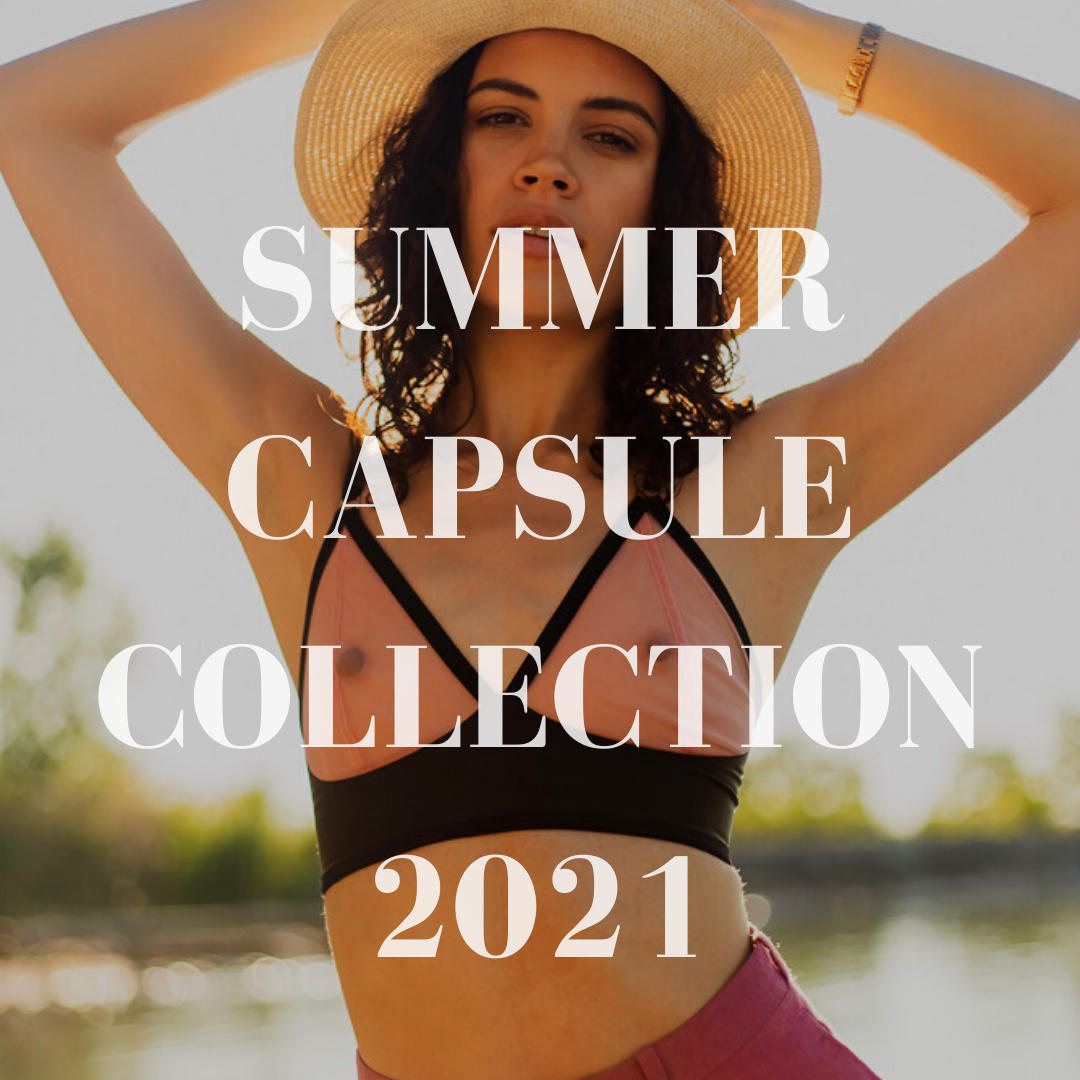 Summer Capsule Collection 2021
After a year in the making, it's finally here! Our Summer Capsule collection features new colours, new fabrics and a brand new wirefree design meant for cool, breathable summers....well for your breasts at least ;)
Read our behind the scenes journey starting with the inspiration behind the collection, how we took this inspiration and brought it to life with our collection pieces, and finally, showcasing these pieces with a magical photoshoot right here in our beautiful city of Toronto. The 2021 Rubies Summer Capsule Collection is now available for purchase online.
OUR INSPIRATION
Our inspiration for the Summer Capsule Collection comes from nature, adapted to fit the Rubies brand. We looked for warm, neutral colours mixed with bold jewel tones to capture the feminine spirit of compassion and empowerment, balanced with softness and tenderness. These majestic images of the beach and forrest inspired our collection to do just that. 
OUR COLOURS
Our inspiration was then brought to life in the colour selection process. The colours used for this collection naturally complements our brand in a neat and aesthetic way. The combination of dark, intense tones with lighter softer ones emulate the strength and support of our bras and our brand, coupled with comfort and femininity.
Colour selection was also tricky, as I am very picky when it comes to colours (well, and in general life) and wanted the perfect hues to match my vision. Colours can look so different on paper and fabrics, so the dyeing process is very important to get the exact shade you're looking for. Below are the fabrics that I settled on. I just love how bold and eye catching they are, but still soft and delicate; exactly the combo I was going for.
OUR FABRICS 
The cup fabric we selected for this collection was a carefully curated Parisian bra tulle. Finding the perfect bra fabrics is no easy feat! You need just the right amount of stretch - too much will not be supportive enough causing too much movement and bounce, and too little will be too restrictive and uncomfortable. Not to mention bras that are too stretchy don't last as long as the stretch wears out faster.
Most of you know tulle as fabric used in a tutu - at least that's what I know it as in my ballerina days! So when I heard of tulle being used for bras, I immediately dismissed it. The tulle I knew of was not stretchy and not soft at all, but more of a netted scratchy feel. I remember thinking I would never put that against my boobs! But I found the look so appealing and couldn't stop thinking about it...
So, I looked into the fabric further, spoke to different suppliers, got many swatch kits, and was assured that bra tulle was softer and perfect for intimates. When I first tried it, I thought it was way too stretchy for anything larger than a C cup. But then we doubled lined the tulle against the grains and voila, we achieved the perfect stretch needed for a bra! Not to mention this allowed us to have enclosed seams on the inside hallelujah. Because of the sheerness of tulle, it was going to be perfect for a summer release, as sheer fabrics are more airy, breathable and cooling.
OUR DESIGN 
The design goals for the Summer Capsule Collection were airy, minimal, and casual. At first glance, you would be skeptical about this style fitting larger sizes without over spillage - I thought it wasn't possible myself!
However, with a lot of testing and determination, I've managed to make up to an M cup in this style. Mind you, this style isn't meant for a pushed-up-cleavage-unnatural-lift look, more so a casual piece where you feel light and unconstrained, but still gently hugged and supported; your breasts being held where they naturally sit. Of course, we just HAD to add some gold and silver plated bling to finish the look ;)
Pattern wise, I was inspired by the Watson from Cloth Habit and the Sweet Sixteen from Bramakers Supply, but I found both didn't achieve the look, fit and comfort I was going for. I would highly recommend both patterns as it has worked for a lot of sewers! Anyhoo, I then decided to make my own design! I wanted a minimal look with a low V neckline and triangle cups that would fit my F cup, and larger sizes.
So, instead of coverage and support in the front neckline area, my pattern moves this coverage and support to the sides, back, and frame. The underarms are higher, the center front frame peaks higher to match the height of the underarm, and the strap tab (the top part of the cup where it meets the strap) is also high towards the collar bone. All these changes are meant for the breasts to feel held and supported with a deep low cut neckline. I also made the back band super wide, and maintained our signature low scooped back and long lined frame around the waist.
You would be shocked at what at difference little tweaks in a pattern do. I've made 50+ versions of this pattern, tweaking 1/8" at a time to one piece to control the variables. I really wanted the casual, beachy, low cut look without my breasts spilling and popping out! This took a lot of trial and error. I can't count how many times while testing I would look down and notice my boobs had escaped the cups. After many many months of tweaking and testing on different sizes and situations, I feel I finally got the design right...I hope! Creating this look with larger breasts that won't fall out is not easy!  But, larger bust sizes deserve a light and casual airy bra that fits, flatters and functions properly, am I right?!
The biggest shoutout and thank you to my atelier team, Bianca and Janna, who were part of this journey behind the scenes. 
The new Rubies Summer Capsule collection design features a long line wireless bra, with sheer cups cut into a deep neckline, supported by a wide back band and long frame around the waistline. 
OUR PHOTOSHOOT
The photoshoot for our Summer Capsule Collection had to be on a beach, and the best time for shooting on a beach is during sunrise! We explored many different beaches in Toronto and the GTA, and landed on a secret little spot in Bluffer's Park. Our call sheet had a 5:30 AM arrival, which meant a 3:00 AM wake up time! But it was so worth it. We drove in the middle of the night, to a huge park that many of us had never been to before. It was slightly spooky as there wasn't a soul around. Not to mention totally freezing which was a little shocking since the weather forecasted a high of +30 degrees Celsius (Canada...right!). The Bluffs aren't an easy place to get to if you're a first timer. And if you have ever been to Bluffer's Park, you know what I mean! Somehow, thanks to FaceTime and WhatsApp Location Pings, all 10 members of our photoshoot crew arrived on time to witness the serene beach sunrise, and take advantage of the soft light for our "secret beach" photoshoot!
The spot we chose was 30 minutes eastbound along the beach, passing many spots that could have made a beautiful backdrop for the shoot. However, we kept walking, trusting the process and the creative team that had scoped out this destination earlier this summer. After passing many families of geese that were both intriguing and terrifying, we finally reached our destination. A hidden beach seemingly unknown to all, except for a group of majestic swans that decided to spectate the entire shoot. The sandstone, water, and cliffs proved to be a perfect natural background, making our colourful capsule collection stand out while complementing the models' natural beauty. 
As the shoot went on, we all had a great time in front of and behind the camera. One of the best parts of a photoshoot is a group of strong women coming together and getting to know each other and having fun! Not to mention the yummy food we brought for the shoot...which we happily ate afterwards. No better way to start the morning than witnessing a majestic sunrise while in the company of inspiring and powerful women. This in-person connection and vitality is definitely something that was missed during the pandemic. 
Thank you to our models Kenisha, Trey, Shaka and Michaela for your stunning beauty and warmth. A special thank you to my wonderful assistant Bridget for your organization and coordination before, during and after the shoot!
Finally, seeing all the pictures and choosing the best ones to post and and share with you all is the last step. Photo selection is so fun and so hard! There were so many great pictures to choose from thanks to our talented photographer Khary from Content Day and stylist from A Poet In Plain Clothes. Stay tuned in our feed as we share our top picks this August!
And there you have it. Our story and journey behind the 2021 Rubies Summer Capsule Collection. A carefully thought out, minimal and timeless piece that I hope will serve those looking for a casual and breathable look without compromising support and comfort.
- Ruhee, Founder